The Little Prince
Der Kleine Prinz
Le Petit Prince
אִל-אַמִיר לֶ-זעִ'יר | الأمير الصغير
Arabic – Arabisch – Arabe
(Palestinian dialect - Palästinensischer Dialekt - Dialecte palestinien)
اللهجة الفلسطينية

| al-lahjat al-filastiniya

Title:
אִל-אַמִיר לֶ-זעִ'יר | الأمير الصغير
[Al-emir as-seghir]
Publisher:
Minerva Books
Place:
Jerusalem / Al-Quds, Israel
Year:
2018
Translator:
Rowan Abu-Ghosh
ISBN No.:
none
Remarks: Beautiful Palestinian Arabic edition of 240 pages, printed both in Arabic and Hebrew script and published with support of the Association for the Promotion of Arabic Language Teaching in Israel.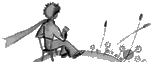 (Palestinian Scan to follow)

Palestinian Arabic is a Southern Levantine Arabic dialect, spoken by most Palestinians in Palestine and Israel and in the Palestinian diaspora populations. Further dialects can be distinguished within Palestine, such as spoken in the northern West Bank, that spoken by Palestinians in the Hebron area, which is similar to Arabic spoken by descendants of Palestinian refugees living in Jordan and south-western Syria. See Wikipedia for more information.

Please correct me & mail your comments