The Little Prince
Der Kleine Prinz
Le Petit Prince
De Pety Präingjss

Bolze – Bolz – Bolze
(City of Fribourg – Stadt Freiburg – Ville de Fribourg)
Bolz

Title:
De Pety Präingjss
Publisher:
Edition Tintenfaß
Place:
Neckarsteinach, Germany
Year:
2019
Translator:
Fränzi Kern-Egger
ISBN No.:
978-3-947994-23-6
Remarks: Thanks to Alfons.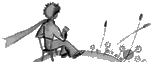 Aa, dù lieba Pety Präingjss, naa dis naa han i vùrschtane, as wy dys melanggo­lygga Lääben ablùùft. Longtang hesch ùù ùs inzigi Dystraggssiong la Dussöör va de Sùnenùndergäng ghäbe. Am Morge vam vierte Taag han i das nüüwa Detay vùrnoo, ggang tü ma dy: I ha Gguschii dü Solei gäär.

Bolze is a mixed language spoken in the Basse-Ville district of Fribourg (Freiburg), Switzer­land. A mixture of French and Swiss German, Bolze came into being as a result of the immigration of German speakers from the Sense District of the Canton of Fribourg starting from the 19th century. By 2019 the language was reportedly spoken only by a handful of locals. See Wikipedia for more information.

Please correct me & mail your comments
Back to main page
zurück zur Hauptseite